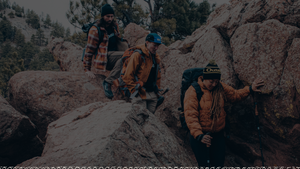 Dirtbag Life
Collection
This limited-edition collection celebrates the most loyal and passionate group of outdoor enthusiasts getting after it—the climbing dirtbags. Yep, we're bringing back the best vintage styles in partnership with Climbing. Going back to the first magazine issue in 1970, we're finding fresh inspiration from 53 years of the dirtbag life.


Wear It in The Wild
Hike that trail. Climb that rock. Ride that bike. Ski that slope. Catch that fish. Surf that wave. At Outside, we're on a mission to get everyone outdoors. And our Outpost gear is designed to be worn in nature. Get out there!

1% Back to Outdoor Nonprofits
Our merch is on a mission: 1% of profits from every Outpost purchase get donated to our Find Your Good nonprofit partners. So you can feel good while you look good, knowing you're helping create a healthier planet and a more diverse, thriving outdoor community.